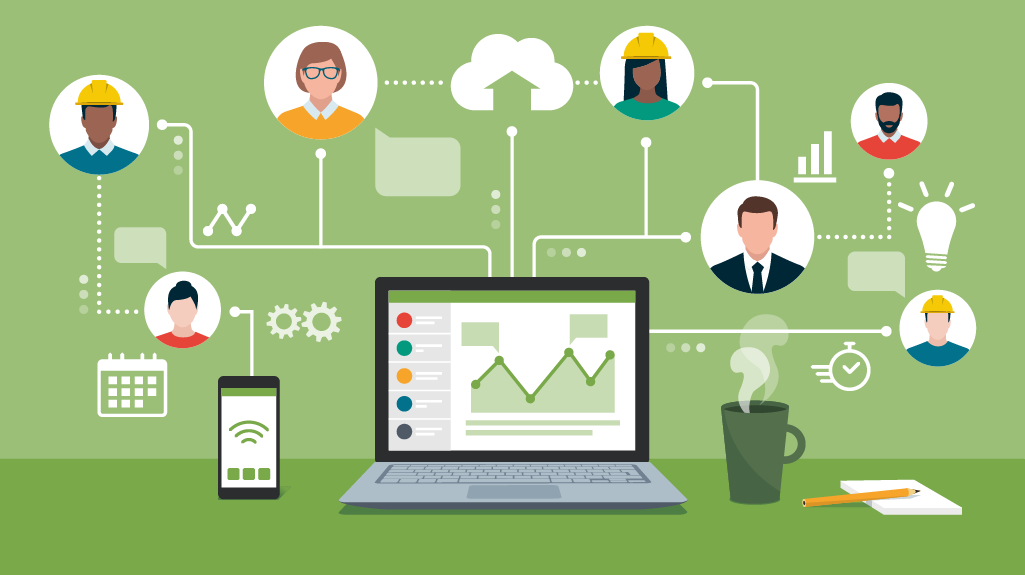 Construction leaders are increasingly embracing the fact they need to upgrade their technology capabilities to be competitive in today's project landscape. But for some contractors, the press of construction deadlines and unfamiliarity with technology can give way to procrastination that leads to missed opportunities to gain the productivity and profitability advantages today's tech offers. It's important to remember that updating tech isn't impossible – it just takes planning. Fortunately, the time and effort you invest up front will pay off big in the long run.
Technology implementations – specifically workforce-management solutions that simplify field data collection – pay dividends by improving the quality and timeliness of the data, decreasing human error and streamlining business processes, like time tracking, project costing and risk mitigation. When you build a solid foundation for your tech strategy from the get-go, you're establishing a company culture that helps ensure your entire team will squeeze maximum profit from your business for years to come.
If you're wondering where to begin, these five steps are sure to get your technology implementation off on the right foot:
1. Secure buy-in from the executive team
Without the proper support from your leadership team, no project is likely to get off the ground, and this is especially true when it comes to changes in company technology. When executives aren't fully engaged in your goals, individuals can misunderstand their responsibilities, feel alienated and miscommunicate your expectations to the rest of the team, all but ensuring a fragmented project launch. Like the first phases of building any structure, a faulty foundation will show its cracks sooner or later and can doom a project from the very beginning.
When your executives see the value and vision of a new tech implementation from the onset, they can become advocates and secure buy-in from the rest of your team. Start by identifying the problem you believe the particular technology can solve. Include project stakeholders in product demos when you're searching for the right solution. Discuss the ROI of implementing this new tool and identify ways it will provide support and new efficiencies to them and the broader team. When your team feels included and understands how the technology will benefit them and their role, you greatly increase their desire to gain access to leverage that solution.
2. Assign each team a point person
Once you've found the right solution, set expectations for how quickly it can be implemented and utilized. Certain technologies are relatively simple to download and access, but that's not typically where companies stumble. Proper implementation takes the willpower and focus of your people to use it on a regular basis and depend on it. Without someone who takes ownership of the project's success to help keep the team accountable, you run the risk of the solution fading into the background and eventually going unused.
In a recent episode of the Mobile Workforce Podcast, Ron Babich explained that when it comes to implementing new technology, "if everybody owns it, then nobody owns it." This is where a point person or team lead comes in. These individuals drive the entire team forward, getting everyone on board, organizing training sessions and ensuring each team member is using the tool properly.
One of the biggest mistakes companies make is not involving the employees that use a field data collection solution the most, the field workers. Field workers and field supervisors are often brought into the implementation process after the decision has been made which can make field adoption of the technology more challenging. Contractors need to think about both the employees collecting the field data as well as those that ultimately analyze or process that data.
Your implementation team should also include your payroll, accounting, project management, and equipment management departments that need to oversee payroll, job cost reporting, profitability, safety, as well as equipment inventory and utilization. Having all of the stakeholders involved in the implementation helps construction businesses streamline workflows and capture all of the field data needed on the front end to manage construction projects to optimal profitability. This also helps to simplify training and overall user adoption.
3. Present a detailed training plan
Once everyone is on board with the new solution and why it will benefit them to use it, the next important step is to provide proper training. Contrary to what many think, training goes far beyond the implementation phase. Yes, there should be a plan to ensure everyone gets up to speed at once. And yes, there should be training unique to different departments, depending on what their unique needs are. But if you want to ensure universal adoption and ensure your people are following the right procedures, there should be a plan for new onboarding training as well as check-ins when the solution has new updates or feature enhancements from time to time.
Remember: technology that is unaccepted will go unused. Similar to how managers may resist change, expect some of your workers to balk as well. Technology is meant to be helpful, but change can be intimidating and put people off. Be proactive and plan ahead by offering information before, during and after implementation. Then, design subsequent training around employees' comfort levels by offering self-paced options, step-by-step instructions, videos and in-person training.
4. Establish a regular cadence for communications
Once your implementation is in full swing, continue to prioritize communications with your executive team, point people and team members. There's no such thing as a "set it and forget it" implementation option. Approach this the way you would new year's resolutions. If you set a lofty goal, you wouldn't just announce it and hope for the best. The same goes with technology implementation.
To ensure your team adopts the new technology, it's critical to have check-ins on a regular basis as they get used to the new solution and begin to see its benefits emerge. Two-way communication soliciting feedback from users and everyone in the organization is critical to successfully implementing new tech. This also leaves the door open for them to share user feedback immediately. Whether it's weekly meetings, email, surveys or conference calls, the more you keep the lines of communication open, the more participation and higher adoption rates you'll get.
5. Set post-implementation goals and incentives
Most organizations allocate plenty of time into their pre-implementation planning but don't put that same level of commitment into the project once the implementation has been completed. This is a strategic error. It's just as important to stay engaged and work to keep your entire team engaged after the initial implementation.
For the pre-implementation, implementation and post-implementation phases, identify and communicate goals. Not only will you be assigning responsibilities to your team, but responsibilities will also fall to you. Besides setting up training schedules, set up help desk support, mentorship opportunities and compliance metrics. Create newsletters about the new software features and incentives for continued use and new functionality adoption as the software evolves or even as the organization is ready to tackle additional benefits that the solution can provide that were not in the initial implementation plan. These may include contests, certifications and awards, which can boost employee participation and adoption. By setting expectations throughout the process, you'll avoid loss of employee engagement and struggling adoption once the roll-out is complete.
Change can be daunting, especially when it comes to unfamiliar technology. But by planning ahead and engaging your team throughout the implementation process, from the beginning of evaluation until the point of full system deployment, valuable new technologies can be introduced and adopted, benefiting your company – and bottom line – for years to come.
The article is authored by Mike Merrill, Co-founder and COO of WorkMax.