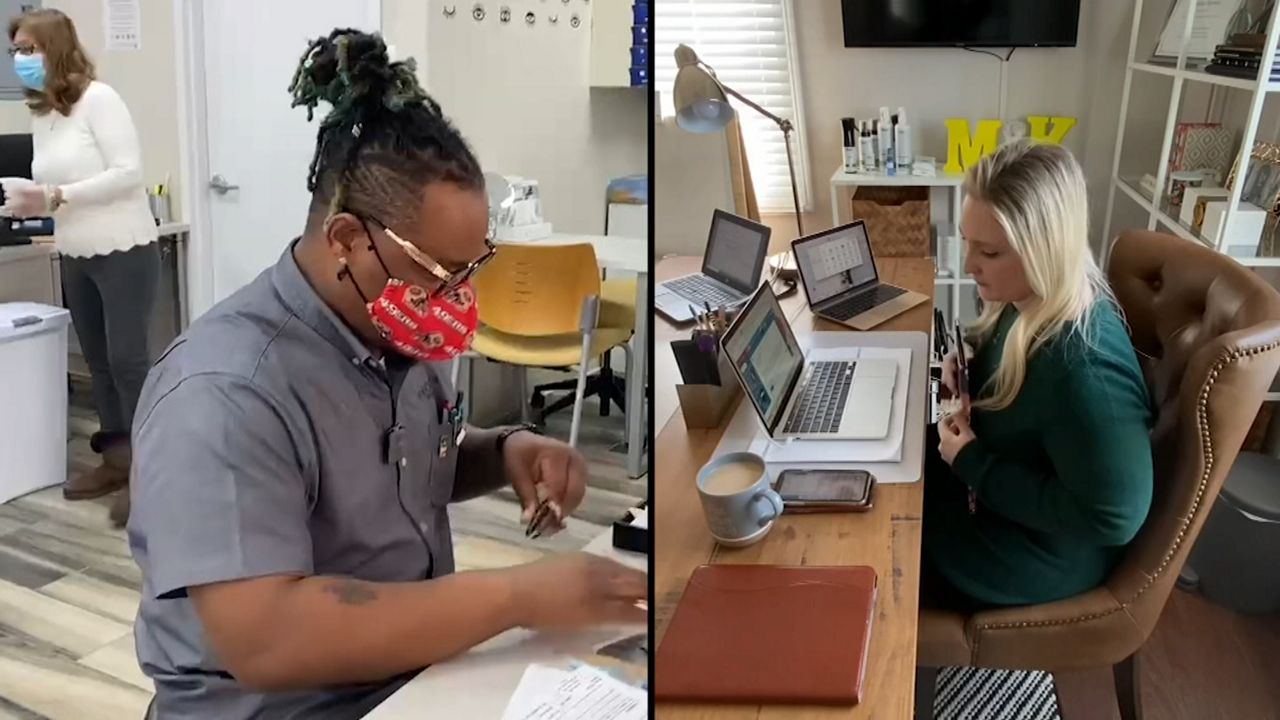 It's a busy afternoon in the Bronx. Kenneth Hill has his hands in everything and his eyes, everywhere.
He's an optician at Metro Optics, an eyewear chain. The Parkchester shop closed briefly when the pandemic began, but it's been open ever since.
"I was very nervous at certain times," said Kenneth Hill.
Hill has to get close to people to do his job. It puts him at greater risk of becoming infected.
He believes his commute poses a risk as well.
"You wouldn't even hold onto the subway railing," he said. "You would sit down on the train and you would just look at the person next to you and then just hope that you were gonna make it there OK."
An hour away in Milford, Connecticut, Dr. Marissa Barrera only has to commute from her bedroom to a guest room-turned-office.
"From scanning to take a credit card payment to putting in all of these things, it's been a real adjustment," she said.
She is a speech pathologist, program director and professor at Yeshiva University in Manhattan.
Two weeks after Yeshiva closed because of the coronavirus, Barrera was teaching and working remotely from her Manhattan apartment. A few months after that, she, her husband and their toddler moved out the city altogether, to suburban Connecticut.
"I never in my life intended to be a homeowner. I loved my life in Manhattan," she said.
Barrera and Hill – one from Manhattan, the other the Bronx – highlight how the pandemic has not affected all New Yorkers equally.
Manhattan residents are more likely to have higher incomes, and jobs that can be done remotely, while Bronx residents are more likely to be front-line workers unable to stay home.
Manhattan also has a higher percentage of white residents, who as a group have better access to health care than Blacks and Hispanics.
It is no surprise, then, that although Manhattan has more people, the Bronx has had far more COVID-19 cases and deaths.
Barrera says working from home has its challenges, but she knows it has kept her family safe.
"There's been many times, of course, in the last year, where I definitely wanted to throw in the towel and say this is not for me, this is not for us, feeling angry and enraged that we were living in a pandemic, losing sight of how fortunate we were to be able to have a home and create a home office," she said.
Barrera was part of an exodus triggered by the coronavirus. Half of the nearly 700,000 New York City residents who requested a change of address from the U.S. Postal Service last year moved out of the five boroughs.
"Temporarily, we have moved here, but my future, my business, my patients, my students, my career remains inside New York. And as soon as New York is fully open for business, we will be right back picking up where we took off," Barrera said.
While Barrera continues to work from home, Hill continues to work inside the eyewear shop.
"You can't live in fear. You have to get back to living your life somehow," he said.
Although he tries to avoid the subway when he can, he cannot isolate himself. He wants to keep the job he's had for 14 years.
"We have to find a way to keep going because New Yorkers cannot sit still. New Yorkers need to keep going. It's in our blood. It's the way we're made up," Hill said.