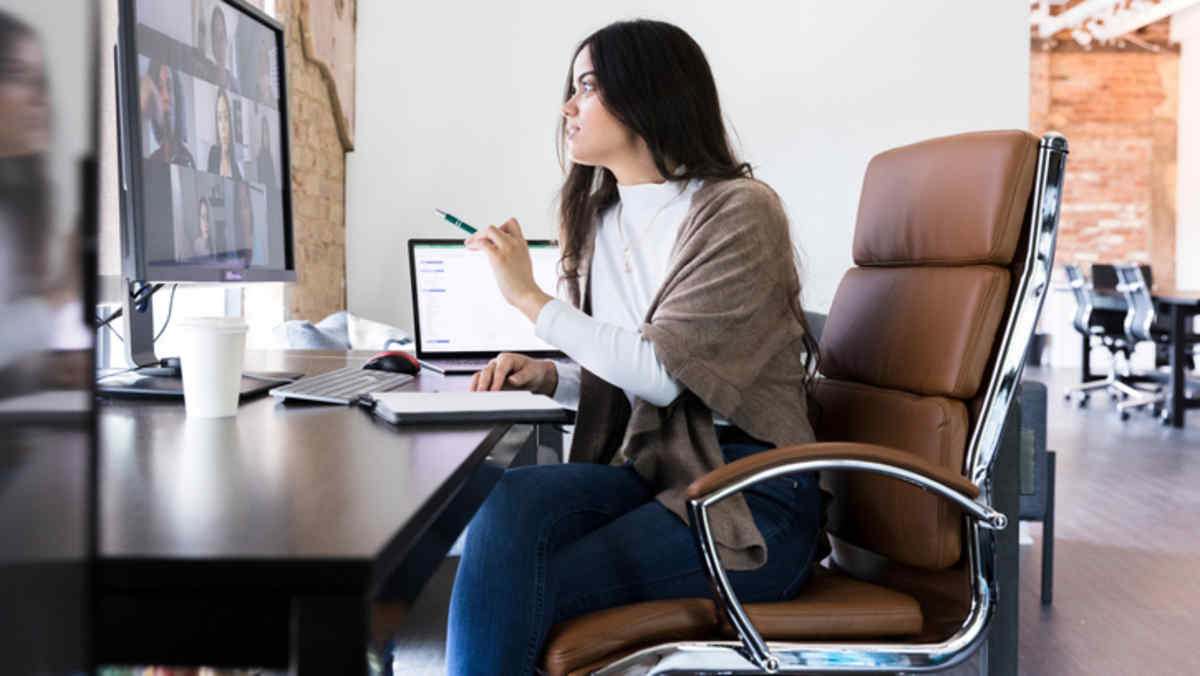 ​The question isn't whether offices are adopting hybrid practices—it's which hybrid practices they're using.
Some, like Google, are firmly in the office camp. They have set a return-to-office deadline of Sept. 1, 2021. Anyone wishing to work remotely for more than 14 days per year needs management approval.
Others, like Ford and JP Morgan Chase, favor flexibility and rotational work models between remote and in-office work.
Many companies are figuring it out on the fly as they start to bring employees back to the workplace.
"We face the biggest shift in work in over a century, and companies don't feel prepared," said Tommy Weir, founder and CEO of enaible. "To set a company up for success and to better understand the technologies that aid productivity at home or in the office, and others that don't, leaders need to turn to data."
He believes artificial intelligence will be the key to understanding employee productivity and which technologies and applications improve performance and empower workers to achieve more without burning out.
Analyzing Productivity
The Aternity Global Remote Work Productivity Tracker report compares three distinct scenarios from the standpoint of productivity and technology enablement: work at home, office work and the hybrid workplace.
The study makes use of a User Experience Index (UXI), a measure of the performance of various applications. This incorporates wait time, page load time, crashes, hangs, errors and other metrics. It is measured on a scale from 0 to 5, with 5 being the highest.
The report finds that software-as-a-service (SaaS) applications tend to perform well, and in some cases better, in remote environments than onsite. But results vary depending on the type of work being done, work patterns and the applications in use.
Researchers analyzed an administrator who used Microsoft applications including Outlook, Teams, SharePoint and Excel, as well as SAP and other applications, and spent three days per week (Monday, Tuesday and Friday) in the office and two days at home. Outlook, Teams and Excel (all SaaS) performed better when the employee was remote compared to performance in the office. Workday is another app that seems to suit remote work, though performance was only marginally better than onsite. Web browsing, too, turned out to be much better at home using a VPN than in the office. However, SharePoint performance was largely the same for either location.
Heavy-duty enterprise applications for enterprise resource planning (ERP), financials and accounting, not surprisingly, don't seem to travel as well. The study finds that employee productivity suffers in a remote setting when SAP is in use. Why? It's such a bandwidth-hogging behemoth that interfaces with so many enterprise systems that its performance suffers outside of the office. The report notes that 20 minutes per week gets eaten up, on average, waiting for SAP to respond. Multiply that by a large workforce using the tool, and a lot of productivity is being drained away.
A possible workaround for such applications is deploying virtual desktop sessions for SAP and other ERP-type software. That could help to eliminate much of the latency challenges that remote workers face.
But some applications just work better when confined to the office.
"Employees who consistently use client-heavy applications could benefit from time in the office, while those who only leverage SaaS applications can have flexibility and can work wherever they want without a noticeable change in application performance," said Jon Hodgson, vice president of product at Aternity.
In another scenario from the Aternity report, a customer service team member spends Tuesday, Wednesday and Thursday in the office and the rest of the week at home. This individual uses Outlook, Excel, PowerPoint, Power BI and, predominantly, Teams.
"On the days they work remotely, they vary their schedule to fit their needs, working less intensely throughout the day and more intensely into the late evening," Hodgson said. "This employee could likely work exclusively from home while maintaining similar productivity levels."
SharePoint performance, though, was noticeably down at home compared to the office. Power BI scores were slightly better in the office than at home.
Finance Can Suffer Remotely
Finally, researchers studied a week's application usage for an office-based finance team member who uses a lot of SaaS applications, and a planning and dispatch expert working only at home. As the finance person uses SAP, the person would need to be in the office during SAP-intensive days.
The planner, too, suffers a little at home due to the use of SAP and SharePoint, which both had poor home scores. Everything else performed well. This employee would probably be better in the office. But a hybrid arrangement could work if home Internet access was upgraded.
"When an employee uses a consistent set of applications throughout each day, and those applications perform the same remotely as onsite, they should have more flexibility," Hodgson said. "Hybrid-work policies need to be tailored to specific departments and individuals. In addition to taking into account the nature of an employee's work and their personal situations, employers need to understand the types of work environments where their employees can be most productive and how they can deliver the best employee experiences."
Drew Robb is a freelance writer in Clearwater, Fla., specializing in IT and business.