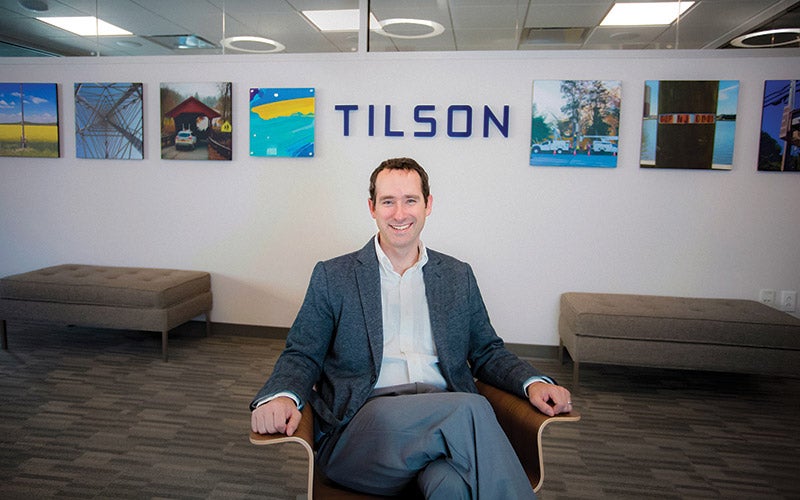 Tilson, a Portland-based information technology company with nearly 600 employees and 18 branch offices nationwide, on Wednesday announced it will allow eligible staff to work from home for as long as they want to.
But the network deployment and IT professional services provider, which has 170 workers in Maine, doesn't plan to give up its headquarters on the East End of the state's largest city.
Like many companies, Tilson has let many workers do their jobs remotely in response to the pandemic. But as COVID-19 cases surge again in Maine and across the nation, the policy will continue indefinitely.
Besides offering employees the choice of where they want to work, Tilson on Wednesday announced it will partner with Pumpspotting, a Maine-based, venture capital-backed technology platform, as a new employee benefits partner to support working parents.
Pumspotting, launched in 2016 by Kittery enterepreneur Amy VanHaren, is designed to connect parents with each other and with breastfeeding, pumping and postpartem support services. The platform has since grown into an employee benefit platform for a growing number of companies, including Tilson.
"Tilson is committed to attracting a diverse workforce by investing in innovative resources and programs and by supporting maximum flexibility for our teams," Tilson CEO Joshua Broder in a news release. "We continue to work hard to identify opportunities to keep our team safe, improve workplace accommodations, and allow maximum flexibility while meeting our mission of building America's information infrastructure."
Despite the new permanent work-from-home policy, Tilson has no plans to give up its Portland headquarters, located at 16 Middle St. and profiled in a 2018 Mainebiz photo essay cover story.
"Tilson plans to retain its Portland location, and will be regularly welcoming local and members of our national teams to our headquarters," Broder told Mainebiz on Wednesday. "We also know many employees, myself included, prefer to work from the office. We are focused on providing a range of options for our team."
Broder, a decorated U.S. Army veteran who has made hiring fellow veterans a priority at Tilson, was honored as a Mainebiz Business Leader of the Year in 2018. He was Tilson's third employee when he joined in early 2007.
Parental leave policy
Tilson said it currently offers an industry-leading parental leave policy for both primary and non-primary caregivers.
The policy provides up to 16 weeks of fully paid parental leave for primary parental caregivers and up to four weeks of fully paid intermittent leave for non-primary parental caregivers. The policy covers biological births, surrogate births and foster or adoption events.
Adria Horn, Tilson's executive vice president for workforce, said the company is excited to partner with VanHaren and Pumpspotting "to better support our working parents during this critical transition, providing better work-life integration and flexibility to our teams."